Latest posts by Alexandra Gavrilescu
(see all)
Bend is a picturesque little mountain town, located in the central part of Oregon, along the Deschutes River. It has many beautiful and breathtaking mountains, lakes, rivers, hiking trails, a lava cave, and even a high desert climate. Simply put, it's the perfect travel destination for those who love adventures. In Bend, you will also enjoy a diversity of restaurants and craft breweries.
To know more about the best things you can do in this exquisite mountain resort, check out the list I've created. Make sure to try them all on your next trip to Bend. Be prepared for a lot of outdoorsy ventures. It's the ideal place to go, regardless of whom you're traveling with. Whether you're planning a romantic getaway or a vacation with the entire family, Bend should be on your travel list.
What Does Bend Have to Offer? – The Best Things to do There
1. Enjoy a Mug of Craft Beer
There are plenty of successful breweries in Bend. The fact that they keep on attracting clients all the time is pretty impressive, especially when you consider that this small mountain town doesn't have a huge population. You will find over 20 different breweries and all of them serve amazing beer in lively tasting rooms, during fun and entertaining events. I've tried several of these locations and I was satisfied with their friendly approach: staff members are helpful, kind, and good at what they're doing. You can make the most out of this experience by keeping track of the Bend Ale Trail which contains 18 breweries. It will be easy for you to visit all of them because they are situated quite close to each other. Enjoying a refreshing pint of craft beer definitely represents one of the best things you could do in Bend, Oregon.
2. Visit the Tumalo Falls
This is a 100-foot tall fall that's located right above the Tumalo Creek. It's a popular place in Bend that's visited by locals and tourists alike. Once you get there, you will be mesmerized by beautiful scenery with pristine waters and a breathtaking canyon. I suggest you go hiking along the river. After a while, you could sit down and relax or have a quick picnic. Farther upstream, there are a couple of small yet interesting waterfalls that you shouldn't miss either. This is an ideal location for those who seek a safe and relaxing adventure while also enjoying the sun.
3. Go See the Lava River Cave
Behind sagebrush, snowbushes, and ponderosa pines, you will discover a nature's hidden gem, the Lava River Cave which was formed naturally more than 80,000 years ago. This cave is the biggest lava tube in the entire state of Oregon, being situated at an astonishing altitude of 5,211 feet. Once you get to the cave's entrance, you must descend 126 steps in order to arrive at the bottom of the cave. Even during hot summer months, you will feast your eyes with ice stalactites that hang from the ceiling. This cave is a great place to explore together with your family and kids. Over the years, the tube has changed in terms of size, temperature, shape, and texture. All these elements are also different as you go farther inside the cave. So, put a jacket on, grab a lantern, and visit this natural wonder.
4. Hike in Pilot Butte State Park
Pilot Butte is basically an extinct volcano that offers an amazing scenic viewpoint. There are different methods to reach the top. You can choose to go on a steeper yet shorter route which is a dirt path. Another way is to hike on a simpler trail that ascents gradually and, sometimes, it follows the paved road. Once you're at the top, you will gaze at the entire panorama that's in front of your eyes. You will see the desert, the town of Bend, and the beautiful mountains. Some people use this place as a way to orient themselves to the city.
5. Get Your Foodie Fix
When it comes to cuisine, Bend provides a wide variety of mouthwatering foods, especially for a town of its size. You will find everything you can imagine there, from European dishes to Asian fusion meals. There's even a culinary tour for true foodies out there. The tour includes a cooking class. Everyone, from burger fans to vegans and vegetarians won't be disappointed and they will find something to their liking in Bend. So, instead of going to the same old restaurant chain that you're used to, I recommend you to get out the comfort zone, and try something new. You won't regret it!
6. Go on a Stroll in Downtown Bend
While you're in Bend, you should go to the old Mill district which has a charming combination of popular chain stores seasoned with locally-owned boutiques. Besides these, visitors will also see a large array of delightful restaurants placed alongside the riverfront. On the other hand, the historic place of Bend is also a must-see, being full of souvenir shops. Moreover, compared to other cities' downtown, Bend's features unique historic architecture.
7. Visit the High Desert Museum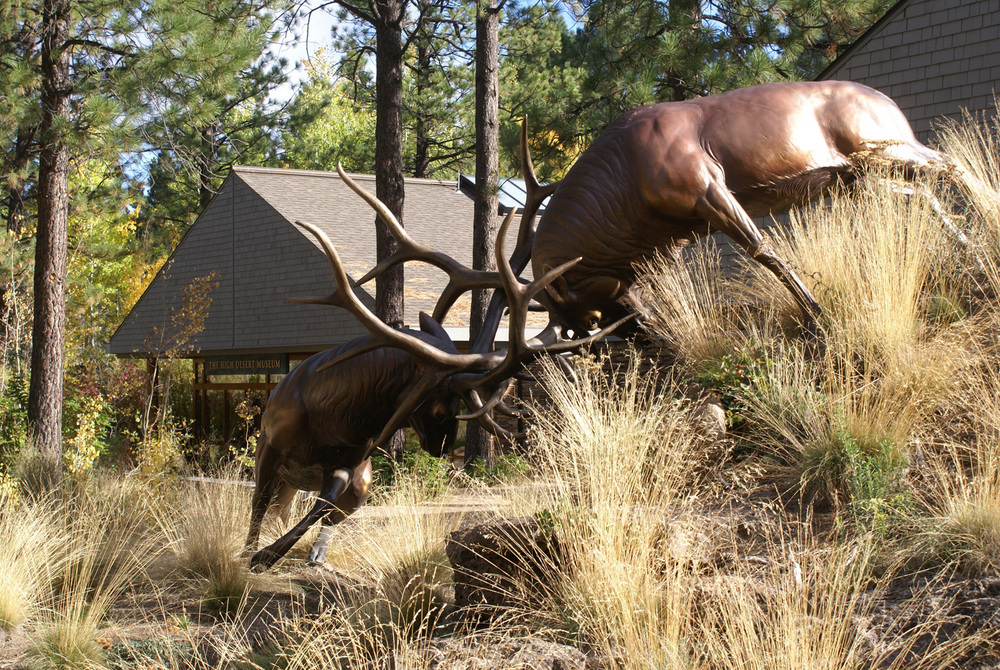 This isn't your average museum. It's a pretty unique place where you can learn everything there is to know regarding the local area, in a fun and entertaining manner. The museum's approach is an interesting one. Instead of letting visitors stare at static exhibits, the museum's representatives focused on presenting a living local history, recreating all kinds of situations. That means that you can interact with several characters and learn the way people used to live in Bend's high desert area, at the beginning of the 1900s. The museum also displays outdoor exhibits across its impressive 135-acre campus. These items showcase local history, art, way of life, and wildlife. As a matter of fact, the museum hosts many animals and takes care of them while these creatures illustrate the local environment with all its elements.
8. Go to Smith Rock State Park
Although the tiny town of Bend amazes tourists with its gorgeous landscapes, this particular state park is truly something special. If you are an enthusiast of rock climbing, biking, hiking, or simply sightseeing, this is the right place to be. The park is full of craggy rocks that are simply picture-perfect. Here, you will enjoy picturesque perspectives of tall rocks and deep canyons dug by the river. Feel free to choose one of the thousands available climbs that you can try in the park. There are literarily miles and miles of biking and hiking trails. If you're lucky enough, you might even spot prairie falcons, river otters, mule deer, golden eagles, and beavers.
9. Go on a Stroll through Drake Park
Drake Park covers an area of 13 acres and it is located in the old part of the town. This park is a popular gathering location in Bend, especially during weekends, when families go outdoors and enjoy the city's amazing weather. The pond is delimited by colorful hardwoods and ponderosa pines. You can play Frisbee on the open lawn or even organize a small football game. The park is also an entertaining hub due to its outdoor stage which hosts a lot of live events, not to mention that there are several amenities close by. In the park, you will meet different species of wild creatures such as chipmunks, exotic or native birds, and squirrels. If you're looking for a way to spend your day with your loved ones, without breaking the bank, Drake Park is the perfect option.
10. Visit the Goody's Ice Cream and Chocolate Factory
After a full day of hiking or sightseeing, you will be hungry or even start craving sweets. So, why not make a trip to a sweets factory. Believe me when I say that you're in for a treat! Goody's produces ice cream and chocolate. The factory was launched on the market more than 30 years ago. Ask any local because he or she will definitely tell you that Goody's the place to be if you have a sweet tooth. If you take the complete tour of the factory, you will be able to take a peek at what workers do, the way they handle melted chocolate and other delicious ingredients. You can choose to either go through the factory on your own or become part of a guided tour. Hold on to something because now comes the best part; after the tour, you will be able to taste some sweet samples of the brand's most popular products: toffee, ice cream, gourmet chocolates, peanut brittle, and many more. In fact, the company manufactures more than 100 different sweets.
11. Go Golfing
Bend is so much more than just Oregon's beer capital. In fact, it is popular for its golf courses, being called the second Palm Springs. Here, you will find over 20 different golf courses. So, you can choose the one you want, based on your budget and level of experience. Most, if not all, of these places, also provide useful amenities so that you can enjoy the overall experience to the fullest. Some golf courses are more popular than others, so it is probably best to make reservations.
12. Go Skiing
The place to go skiing in Bend is on Mount Bachelor. It's a special kind of mountain, a stratovolcano. Its name comes from the fact that this peak stands alone, unlike the Three Sisters summits which can be found close by. Mount Bachelor has an altitude of 9,068 feet. During winter, the place gets packed with both snowboarders and skiers alike. It is a great location for winter sports due to the weather which is normally clear and crisp. If you're not really into winter sports, don't worry because there are plenty of other things to do like taking a chairlift ride, going to the observatory, and even trying dog sledding or snow tubing.
How You Can Get to Bend
As I mentioned at the beginning of this article, Bend is a small town located in Central Oregon. It's approximately 160 miles away from Portland. If you travel by plane, you can land on Redmond Municipal Airport which is the closest one. Four different and well-known airlines operate on this airport: American Airlines, United Express, Alaska Air, and Delta Airlines. Moreover, there are daily flights from the following cities: San Francisco, Los Angeles, Portland, Seattle, Phoenix, Denver, and Salt Lake City. Regarding trains and buses, I am sorry to inform you that there aren't any direct lanes to Bend but you can put together a transit trip on your own, using Amtrak's services. On the other hand, if you plan to drive there, coming from a nearby city, make sure to verify the road conditions before starting the trip. There's a mountain pass to be crossed so, if you travel in winter, you will most likely need to equip your vehicle with wheel chains, especially if the road is covered in snow.
When Should You Visit the Town? – The Best Time to Travel to Bend
Bend has a high desert climate which consists of sunny warm days. However, make sure to pack appropriately because the night can get quite cool, even in the summer. Regardless of when you decide to visit this mountain town, you won't get bored because there are many outdoor activities you can do. During summer months, you could go hiking, kayaking, biking, and rock climbing. On the other hand, winters are ideal for snowboarding and skiing on one of Bend's popular spots: Mount Bachelor. Although summer months go by quickly because the hot season is quite short in this area, the entire warm period is pleasant. During summer, you will enjoy temperatures of about 80 degrees Fahrenheit while winters can be pretty cold, with an average temperature of 20 degrees Fahrenheit. Between November and February, the area sees a lot of precipitations in the form of rain and snow.
The Best Things to Do in Bend Oregon – Bottom Line
Bend is a great place to go if you want to relax, unwind, or raise your adrenaline by practicing all sorts of outdoor recreational pursuits. The place is beautiful and embellished by scenic views and landscapes. All the things mentioned above are amazing ways to spend your holiday. And, if all those activities didn't convince you to visit Bend, then maybe this will do the trick: in Bend, you will find the last Blockbuster store in all the United States. Have fun!
Further read: